The best solution for your company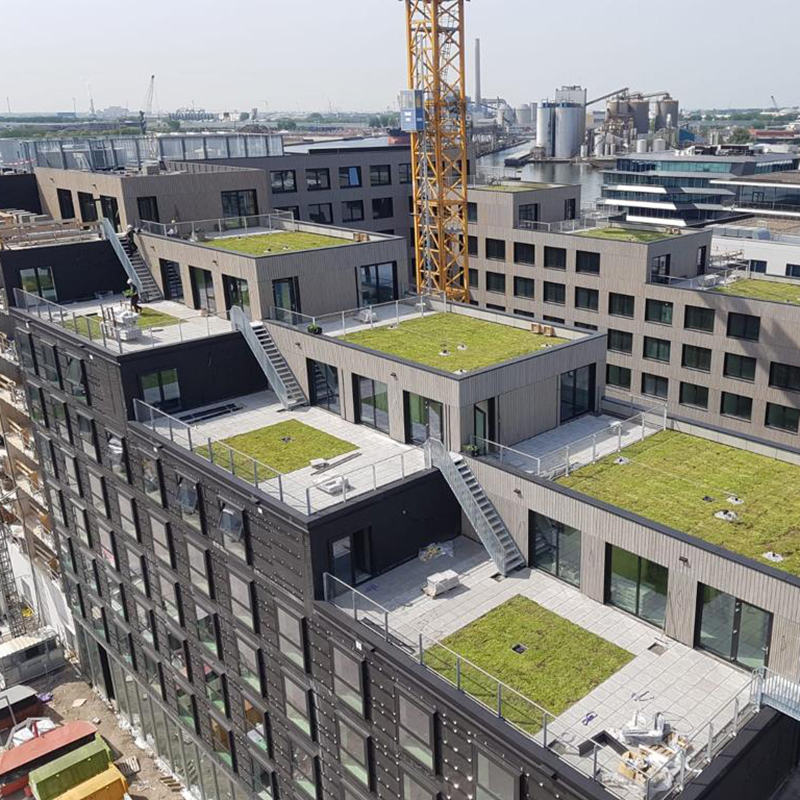 Opt for 100% green
You can choose to provide your entire roof with vegetation. This has many benefits, including:
● Simple and quick to implement
● Your roof will last much longer
● You save heating costs
● It prevents flooding
● Fine dust is filtered from the air
● Solar panels render better
● It is good for the conservation of biodiversity
● Green roofs have a sound-absorbing effect
Type of vegetation
The type of vegetation that suits your roof depends on a number of factors, such as the location (sun/shade) and the load-bearing capacity of the roof. In the development of your plan, we will indicate which type of greenery is suitable and which preconditions you should take into account based on the requirements set (for example with regard to water buffering) and the atmosphere you want. Read more about green roofs.
A roof garden or roof park
In recent years, roof gardens and roof parks have gained a lot of popularity. Space is scarce and expensive in the cities, and many green spaces have been replaced by buildings. Employers and property managers are looking for ways to green their premises and improve the working environment. With a roof park you create extra space, with opportunities for outdoor relaxation, lunch, meetings, or discussions. Hotels and restaurants are also making more and more use of the unique possibilities of their roofs, such as growing vegetables and herbs. With our team of designers, architects, furniture makers and gardeners, we can transform a roof(park) from A to Z into an idilic, high-quality outdoor space.
Green has a strong influence on the state of mind of your tenants, employees or guests. Green relaxes and de-stresses. With the addition of a green roof garden and roof terrace, you can make your building more sustainable and create more multifunctional space. The roof park can be an attraction for guests, relations, and potential clients. In addition, greenery offers all kinds of solutions for social problems such as the absorption of particulate matter from the air, an attractive place for butterflies and bees, the storage of rainwater, and the cooling of your building.
Important: determining the roof function
What exactly will the function be and what should it look like? You will determine this together with one of our project consultants and skilled architects. Depending on what you are looking for, we merge your wishes into an effective plan and design. Naturally, a roof park sets specific requirements for your roof. We are happy to discuss the options with you. View the projects in our portfolio.
Choose a roof garden with water storage
A Polder roof is the ideal basis for a green roof or roof garden. The idea of ​​a Polder Roof is very simple: it is a system of crates under the roof garden. Rainwater is held in these crates, which can be used to feed the garden. An additional advantage is that we relieve the sewers during heavy rainfall. With a Polder roof you are assured of a durable and safe roof solution.
Help us build a network of polder roofs!
An inescapable fact is that we often have to deal with extreme rainfall. An important part of the solution is the creation of a network of polder roofs, which makes a substantial contribution to the water management of cities. Are you in?
Roof renovations
Does your roof need to be renovated before we realize your roof garden? We have our own roofers in-house to lay a good foundation for your roof garden. Sometimes it is necessary to only provide the roof with a new top layer. But we can also take care of a complete renovation from demolition to construction. We also immediately ensure that the insulation value of your roof increases, so it is more sustainable!
Please note: we are not a regular roofing company. We do not have a service for leakages, unless you are an existing customer with a roof and roofgarden supplied bij De Dakdokters.