Roof gardens & roof terraces
Are you looking for information about permits, construction or design of your roof garden or roof terrace? You have come to the right place. With over 500 successfully completed projects in Amsterdam we are the experts on roof gardens!
Permit needed?
'De Dakdokters' have years of experience in obtaining permits in Amsterdam. Our steady relationship with the city government guarantees a fast and careful procedure. In general, approval of the request can take up to 8 weeks followed by a 6-week objection period.
Design your own roof terrace
'De Dakdokters' have their own design studio named "De Dakarchitecten" (the rooftop architects). This studio can make every "roof dream" come true. Our architects design your terrace and obtain the necessary permits. The sky is the limit when it comes to your convenience: from a custom-build outdoor kitchen to a lounge sofa with a backrest of planters.
Decorating your roof terrace
Lounge sofa
Unwinding on your roof terrace? We custom-build your lounge sofa of ecological Modiwood. There are several options: no backrest, a straight backrest, a sloping backrest, a backrest made of planters or a moveable side table.
Bench
This custom-made bench with optional built-in storage is equally suitable as a table chair at dinner or just as befitting as a stand-alone bench.
Planter
We build our custom made planters of ecological Modiwood. The inside is finished with a synthetic material to protect the wood. The planters come with a drainage layer and professional potting soil.
Pergola
A pergola delivers beautiful shelter on your terrace. The pergola is custom made. The legs are attached to the fencing or planters to make sure it overgrows gradually. Attaching tension wire, reed- or willow mats to the pergola is optional.
Shade sail
A customized shade sail provides cool shade on a hot summer day. Different shapes and colours are available. The FSC hardwood legs are attached to fencing or planter. The sails are easy to mount using carabiners and pulleys.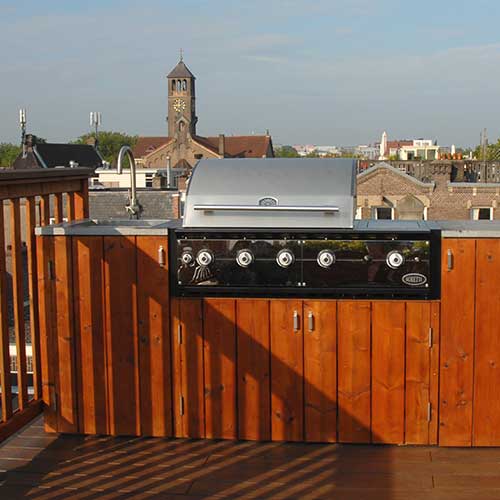 Outdoor kitchen
An outdoor kitchen is a great way to have your food at hand while enjoying your roof terrace. The outdoor kitchen is custom-build to your needs. It can be equipped with a fridge, sink and storage space.
Electronic points & LED lighting
An electric point on your roof may come in handy, for example to install LED lighting to enjoy your roof terrace at night.
Water connection
It can be beneficial to install a water connection on your roof terrace. You can connect an irrigation sprinkler system with timer. This will allow you to go on holiday without having to worry about your plants.
Outdoor shower
An outdoor shower can relieve you of the blistering heat of the summer. Our plumber customizes the shower to suit your needs, for example a shower fitted with a stainless steel showerhead.
Bar table
A customized bar table is great for entertaining friends while enjoying views of the city.
Vegetation
In cooperation with our plant expert we convert your terrace into a green oasis. Customized to meet your demands concerning appearance and maintenance.
Hammock base
A hammock on a roof terrace is the best thing in the world. "De Dakdokters" have designed a hammock base which is attached to the cross bars underneath the flooring. It comes with removable FSC hardwood stands.